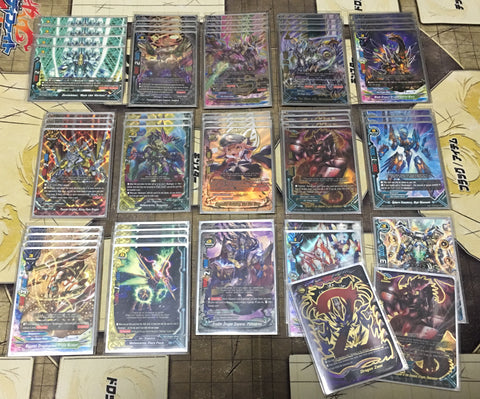 Future Card Buddyfight Constructed Deck: (Dragon Zwei) "Neo Dragon Zwei"
Harness the power of the dragons with the ultimate world "Dragon Zwei"! 
The Neo Dragon Zwei deck has topped countless Championships all around the world, and is the number 1 choice for competitive Buddyfighters! This deck rushes by abusing powerful size 3 Neo Dragons which are able to attack multiple times with high critical power! Out advantage your enemies with the dragons amazing draw engine and summoning abilities, giving you the upper hand in any battle! This fearsome deck is to be wield by only the strongest of Buddyfighters!    
All Constructed Decks comes with the following:
-  A fully constructed 52 card competitive ready deck.
-  A Deck box to store your deck.
- 52 pieces of clear card sleeves to protect your cards during play.
Deck List: (52)
1 x Dragon Zwei (Secret)
1 x Retainer of the Demonic Dragon, Destructor (Secret) (Buddy)
Monsters (47) 
4 x Too Over-Dimensional Dragon, EXA Dimenzion (RRR)
4 x The Over EX, Dimenzion (RRR)
4 x Transcend Dragon Emperor, Ewigkeit (RR)
4 x Black Crystal Dragon, Lucien Black (R)
4 x Thunder Knights, Rising Flare Dragon (RR)
3 x Meteorarms, Dragsolar (RR)
4 x Biggest Dragoarms, Triple Buster (R)
4 x Meteorarms, Pisca Pisca (R)
2 x Dragonarms, Wieger (R) (1x holo)

4 x Retainer of the Demonic Dragon, Destructor (Secret)
4 x Apprentice Underling, Kon Kon Kong (RRR)
3 x Sphere Cemetery, Star Remnant (R)
1 x Biggest Dragoarms, Sonic Blast (R)
2 x Erudite Dragon Emperor, Philosophia (R)
Impacts (4)
4 x Zenislator, "Rain the Vertex!" (R)
---
---
We Also Recommend
This product is available.