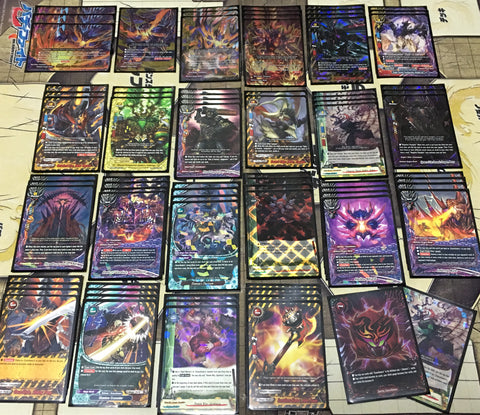 Future Card Buddyfight Constructed Deck: (Executioners)
The Searing Executioners deck focus on Milling your own deck to gain huge advantage over your opponent. Gate of Judgement allows the user to search any executioner card from the dropzone which technically utilizes  the entire deck. Claiming champion over many Regions, the Searing Executioners deck is one of the Strongest Control builds in Buddyfight. It also recommended for more advance players.
All Constructed Decks comes with the following:
-  A fully constructed 52 card competitive ready deck.
-  A Deck box to store your deck.
- 52 pieces of clear card sleeves to protect your cards during play.
Deck List: (52)
1 x Searing Executioners (PR) (Foil)
1 x Chaotic Hunt Jailer Soku (Buddy)
Monsters (40) 
3 x Gagalrarios, "Prison Pyre Demonic Wave!" (RRR)
1 x Master of the Searing Executioners, Gagalgarios (BR)
3 x Hellfire Executioners Dragon, Gagalgarios (RRR)
4 x Earth Tremor Black Dragon, Soulvaag (RRR)
4 x Tempest Jailer, Helle Cougar (RR)
3 x Dragon Towards Transfiguration, Paradise Lost (PR)
3 x Unlocked Eye, Helle Gepard (R)
3 x Hazel Emperor Jailer, Alking (C)
4 x Headslay Jailer, Brujeria (C)

2 x Sword Edge Jailer, Zagulus (C)
4 x Chaotic Hunt Jailer Soku (R)
3 x Spawn of the Demonic Dragon, Booze (RR)
3 x Headhunt Jailer, Sai (R)
Spells (31)

4 x Gate of Verdict, Judgment (R)
4 x Damian's Decision (R)
4 x Demon Way, Akeshigure (RR)
4 x Helles Shield (R)
4 x Inferno Rule (R)
4 x Own-Style, Sliding Fang (C)
4 x Shadow Crusader (C)
3 x Demon Way Jigokuezu (R)
Item (4)
4 x Executioner Hammer, Helles Fander (C)
---
---
We Also Recommend
This product is available.