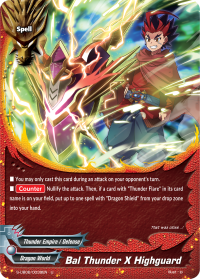 S-UB06: Bal Thunder X Highguard (U)
■ You may only cast this card during an attack on your opponent's turn.
■ [Counter] Nullify the attack. Then, if a card with "Thunder Flare" in its card name is on your field, put up to one spell with "Dragon Shield" from your drop zone into your hand.
---
---
We Also Recommend
This product is available.